ABOUT
Wizard of Legend is a fast paced 2D dungeon crawler where you assume the role of a powerful wizard on his quest for fame and glory! Every year In the kingdom of Lanova, the Legendary Council of Magic holds an invitational challenge for qualified wizards who aspire to join their ranks. Contestants who manage to overcome all the trials set forth by the Council will be granted the honor of joining the Council of Magic as its newest Wizard of Legend!
FAST PACED ACTION
Wizard of Legend features fast paced action that emphasizes good positioning and effective chaining of spells.
TONS OF SPELLS
With around 100 planned spells to find and master, you will be able to customize your arsenal to fit the playstyle you prefer. Experiment and discover devastating spell combinations to destroy your enemies!
PROCEDURAL GENERATION
Procedural generation of levels guarantees that each run is a unique experience. With the exception of a few hand-crafted rooms, the floor plan, enemy placement, and item placement is completely different each time.
SCREENSHOTS
TEAM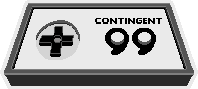 Contingent99 is a two person indie dev team based in Los Angeles. We've been hard at work on our debut project, Wizard of Legend! If you have any questions or inquiries, please feel free to contact us at:
Email: team [at] contingent99.com
Twitter: @contingent99

More info on our presskit